"Ruffled Feathers"
Puffin Room, 435 Broome Street, NYC 10013
March 1 to April 21, 2002
Asian American Women Artists Alliance started out it's exhibition series in 2002 with "Ruffled Feathers" at the Puffin Room, New York City.
Participating artists: Amy Cheng, Candace Hsiao, Ellen Hsiao, Joo Hyun Kang, Yan Kong, Akiko Kotani, Ripley Lin, Fannie Lee, Tomoko Tamura, Xin Song and Hee Sung Yang.
Events: A performance by "Treaders in the Snow" was presented on the opening night, March 1, 2002. Master Dancer Devi Uim and Sochietah Ung gave a demonstration of Cambodian Classic Dance and taught a workshop: "Spirit of Cambodia", on March 3rd. Asian Women on Women Film Series was held at Puffin Room on four Wednesday evenings. the films presented were:
Slaying the Dragon by Deborah Gee, 1988, 60 minutes
Shinijuku Boys by Kim Longinotto & Jano Williams, 1995, 53 minutes
Don't Ask Why by Sabiha Sumar, 1999, 58 minutes
Subrosa by Helen Lee, 2002, 22 minutes
Sally's Beauty Spot by Helen Lee, 1990, 12 minutes.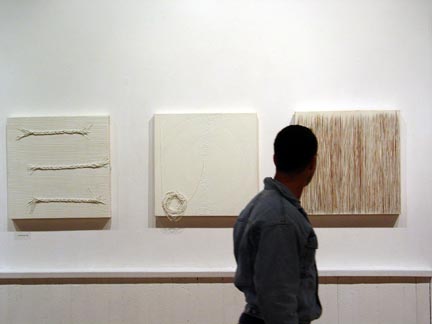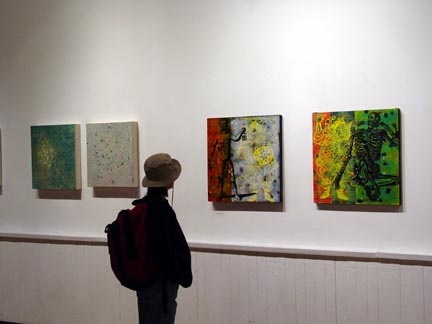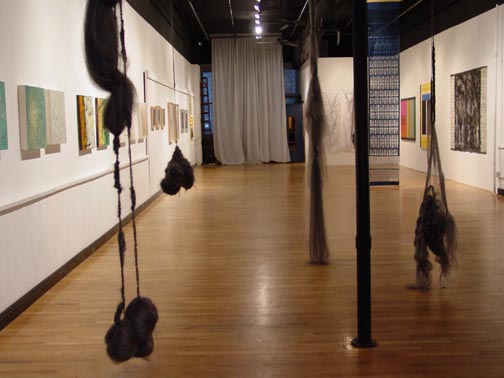 | | | |
| --- | --- | --- |
| | | Performance by "Treaders in the Snow" on the opening night |
| | | |
| --- | --- | --- |
| Asian Women on Women Film Series at Puffin Room | | |